About the Department:
Physiotherapy department of TMC was established in 16th August 2012 and has grown gradually and now provides one of the best Cancer Rehabilitation in north eastern India. We believe in evidence based and evidence informed practices. Manual therapy, patient and family education is our strength. We always focus on detailed assessment, understanding the problem, preparing a management goal and intervene directly on the cause rather than providing treatment symptomatically thus we achieve immediate results in most of the cases without the help of electrotherapeutic modalities. We are covering patients from almost every department of the hospital.
We provide pre operative and post operative patient care , In patient services , out patient services and emergency services when required. We also help the patients to procure various  prothesis , tools and equipment needed during the course of their treatment.
We welcome Physiotherapist or other medical professionals for Internship or observership programme. We are also planning to start Fellowship programme in Cancer Rehabilitation in future.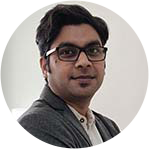 Sayantan Chattopadhyay , has completed Bachelors in Physiotherapy in 2005 and Masters in Physiotherapy on orthopaedics in 2019 . He has started his career at RTIICS-NH , Kolkata in 2006. He left RTIICS-NH and joined at Tata Medical Center in 2012.